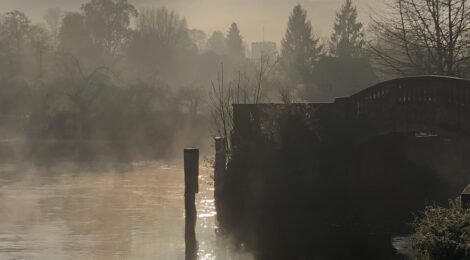 A Letter from the Ministry Team. Iffley Parish Magazine, November 2020.
In an April edition of The Church Times I came across a short but beautifully written article entitled "Quiet, Brave Endurance" by Paul Handley. What better word to reflect on than 'endurance' after our experiences of the past 7 months?
Handley says "It is perhaps surprising that endurance is praised when someone goes out and seeks it for sport. It is unnoticed when practised by countless people in the quiet of their daily lives." He goes on to relate a passage from a book by Neil Ansell (The Last Wilderness, Tinder Press, 2018). The author writes at a time of ill health, sitting under a tree in a remote area on the West coast of Scotland, of the blessings of his life and that the hardships he'd endured had been from choices he'd made himself. He was different from the "generations" of people who had to live life without "peace…enough food, or clean water, or medicines" and who had endured hardships all through their lives. His wish for himself, as he faces illness is to be thankful and humble even if he can only view the beauty of the world from a window.
In 1949 William Faulkner won the Nobel Prize in Literature. In his Banquet speech in 1950 he wrote: "I believe that man will not merely endure: he will prevail. He is immortal, not because he alone among creatures has an inexhaustible voice, but because he has a soul, a spirit capable of compassion and sacrifice and endurance".
In 1929 Faulkner created his most loving and compassionate character in the person of Dilsey, the Compson family's black housekeeper in The Sound and the Fury. Her strength is astounding as is her unending tolerance. She cares for her own children and grandchildren, and the entire Compson family from the parents to the grandchild. She is verbally abused and worn down by the mother and middle son. The father, the oldest son and the only daughter rely on her for her wisdom and understanding in their disintegrating lives. Her love and compassion for the youngest son Bengy, who is severely disabled, is constant and is never compromised. Her faith in God never wavers. She finds strength in being kind and always giving.
Faulkner details each of the characters at the end of the novel and for Dilsey he simply writes 'They endured'. In these two words he expresses not only an individual's ability to endure but that of an entire race that has been enslaved and persecuted but never destroyed.
We can reflect on so many stories of endurance from the famous to the unknown. We only need to think of prisoners of war, thousands of people struggling in the Middle East with little food or clothing, refugees in Syria, people suffering from chronic illnesses and in our own country, detainees in immigrant camps awaiting asylum, the homeless in Cornmarket, people battling depression and substance abuse. The list could go on and on and this not just lasting for months but for many years.
As Christians we are blessed in that we can seek inner strength in the word of God. There are many passages in the Bible that tell us not to become despondent nor to despair but to believe and take refuge in God's love. It is here we will find the strength to move forward and to rejoice at each sunrise and sunset. I find comfort and encouragement in the following verses. Perhaps you will as well?
Hebrews 6:15 – And thus Abraham, having patiently waited, obtained the promise.
Hebrews 12:3 – Consider him who endured from sinners such hostility against himself, so that you may not grow weary or fainthearted.
Romans 5:3-5 – …knowing that suffering produces endurance, and endurance produces character, and character produces hope, and hope does not put us to shame, because God's love has been poured into our hearts through the Holy Spirit who has been given to us.
Psalm 100:5 – For the Lord is good; his steadfast love endures forever, and his faithfulness to all generations.
Maureen McNaboe
---
To subscribe to the Parish Magazine, please contact Michael Sinclair, mikesinclair@ntlworld.com, 01865 438251. Subscriptions cost only £5.00 per year for 12 monthly issues, including free delivery within the parish.