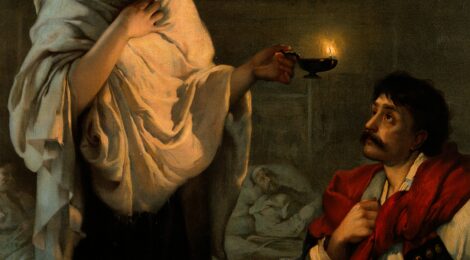 A sermon preached online at St Mary's Iffley by Hilary Pearson on 24 May 2020
Humanity tends to have a high view of itself. Look at our achievements: great cities, aeroplanes, computers, the Internet, men on the Moon. But now, everywhere people are quarantined or self-isolating, international travel has stopped, the economy is in its worst shape in decades. What has caused such devastation? A short length of genetic code, rolled into a microscopic ball, coated with spikes which allow it to penetrate our cells. It cannot spread or reproduce on its own, it needs humans for that. Mighty humanity is being humbled by the simplest possible form of life.
Our first reading is from a letter written to a church experiencing persecution.  Despite what some say, we Christians here are not being persecuted – no, our churches are shut to save lives.  But the message that God cares, that we can give him our anxieties, equally applies to our situation.
Inevitably, this pandemic raises the question: 'How can a loving God cause a disease like COVID-19?' As Andrew has given me a strict time limit, I cannot go into this difficult area of theology now, even if I wanted to!
Many have commented that good things are coming out of this strange situation. Numerous acts of kindness and self-sacrifice. Captain Tom. Neighbours getting to know each other through social media, coming out on Thursday evenings to clap for carers, and helping the vulnerable in their street. Although we are not able to meet in person, after our Zoom services we have the pleasure of seeing each other, including dear people who are no longer in Oxford, such as the Boom family. The air is clearer, we can hear the birdsong and have time to appreciate nature.
Just as important, serious social problems such as the deficiencies of the care system, food poverty, and precarious incomes for the self-employed have become much more public. The importance of low paid workers such as supermarket staff, postmen, hospital porters, dustmen and delivery drivers has become clear. We realise how difficult it is for children living in cramped, poor housing with nowhere outside to play. And domestic violence, made much worse by this confinement, is being highlighted.
We have just had the 200th anniversary of the birth of Florence Nightingale.  In 1873 she wrote that disease could be seen as part of God's plan.  Her argument went like this: God has a plan and we are here to play our part in it. But how can we do this unless we know what God is like? The Bible tell us that God is just and God is love.
But it is no use saying God is just unless we define justice, no use saying God is love unless we define what love will do. Referring to reports of infection and terrible conditions in poor areas of London, she says that infection should teach us 'to remove the conditions of dirt, overcrowding, and foulness of every kind under which men live…Disease is Elijah's earthquake, which teaches us to attend, to listen to the "still small voice".  
That voice is surely telling us that God wants us to remedy the injustice shown up by this illness and show his love to the world. We need to be thinking seriously about how some of the good things that have come out of this pandemic can be kept once it is all over. And what can we do to see that the revealed injustices are remedied, not forgotten? How can we show God's love to those who are suffering? I believe that is God's challenge, sent to us through the coronavirus. Let us use this time of enforced quiet to think about how we can meet this challenge.