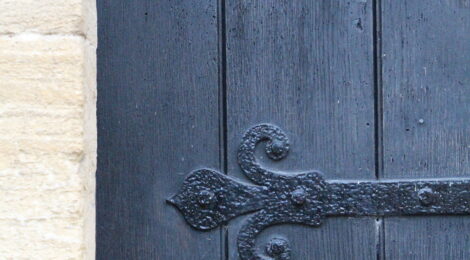 A sermon preached at St Mary's Iffley by Andrew McKearney on Ash Wednesday 2023
As we begin Lent I want to think about the story of Bartimaeus, the blind beggar sitting by the roadside on the outskirts of Jericho (Mark 10.35-45) that we've just read.
It's a wonderful story that comes at a pivotal moment in Jesus' journey to Jerusalem.
You'll remember that on this journey Jesus has been trying to help his disciples understand what lies ahead. Three times in Mark's Gospel Jesus explains to them and three times they don't understand. The third time occurs just before this meeting with Bartimaeus.
Immediately after this meeting, Jesus and the disciples arrive at Jerusalem where the crowds greet them and Jesus is hailed as the Son of David. 'Hosanna!' they cry, as we shall on Palm Sunday.
What then is the significance of this story in Mark's gospel?
In contrast to the disciples who are bustling along the road to Jerusalem, Bartimaeus can't see to stride confidently along. Certainly, he can't physically see, but when he cries out, the words he uses are words of recognition:
'Jesus, Son of David, have mercy on me.'
So, he's certainly got insight, even if he's not got sight. More so than the disciples who have the light of life with them, but are actually stumbling around in the dark.
The crowd try to shut Bartimaeus up but he persists, shouting all the louder:
'Son of David, have mercy on me.'
Jesus, quite often commends the behaviour of a beggar – they have persistence and the disciples should emulate that:
'Ask and you shall receive, seek and you shall find,
knock and the door will be opened to you.'
It's the wisdom of a beggar. Just keep on, doggedly.
What else about this story might be significant?
There's the ready response Bartimaeus makes when Jesus calls to him. He throws off his cloak, springs up and comes to Jesus. For a beggar his cloak is just about all he has, and it's vital. At night he uses it to keep himself warm and during the day he lays it in front of him to gather the coins dropped by passers-by. But Bartimaeus throws it off, pushing it aside in his keenness to respond.
Interesting too is how Bartimaeus replies when asked by Jesus what he wants. He says he wants to see again. So, he's not like the blind man in John's gospel who was born blind. Something has happened to Bartimaeus, some catastrophe, accident, act of violence or disease has reduced him to begging by the roadside on the outskirts of Jericho.
Finally, when Bartimaeus receives his sight he 'follows Jesus on the way' – that's what Mark has written. Disciples are followers, so Bartimaeus is now a disciple – and remember too that Christianity as a faith was referred to in its early days as 'The Way'.
Mark writes this story carefully so that we're left in no doubt that Bartimaeus is an example of what it means to be a disciple.
So how might we embody the example that Bartimaeus sets us? One way is by using an ancient pattern of prayer whose words are inspired, in part, by his words. It's a way of prayer we might like to use during Lent, perhaps bringing to mind this story of Bartimaeus to encourage us.
In the Eastern Orthodox Church this pattern of prayer is called 'The Jesus Prayer' by which is meant not 'The Lord's Prayer' but some simple words that are prayed quietly, slowly and repetitively. You can use a prayer rope as you do so. You can buy these prayer ropes online, and you pass the knots of the rope through your fingers as you pray the words:
'Lord Jesus Christ, Son of God, have mercy on me.'
The idea is that as you repeat this prayer it gradually moves from your head to your heart and you find yourself praying it constantly – like breathing – now not with your head, but with your heart:
'Lord Jesus Christ, Son of God, have mercy on me.'
Bartimaeus is a good person to have in mind as we begin this season of Lent. Mark wants us to see him as an example of what it means to be a disciple. Mark suggests:
we're like blind beggars, sitting by the roadside, crying out for mercy
we're to persist and not allow setbacks to stop us
we're to respond willingly and with enthusiasm
some things that have been vital to us, we need to kick to one side
and we must follow Jesus all the way
And by using The Jesus Prayer, his cry can become our cry too:
'Lord Jesus Christ, Son of God, have mercy on me.'