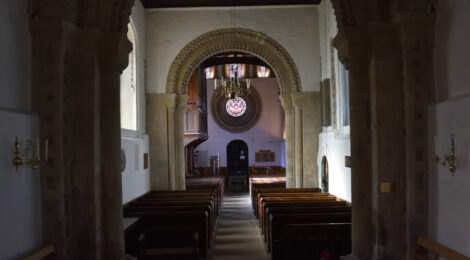 A sermon preached at St Mary's Iffley by Andrew McKearney on 28 March 2021.
The five psalms for this week are all on the theme of suffering. When it comes to suffering we're spoilt for choice since about a third of the psalms are laments.
The Bible knows a range of life threatening events – famine, pestilence, drought, warfare – and they appeared more frequently then than the pandemic that we've suffered now, and often with devastating consequences. And at a more personal level, illness and grief were for them, as for us, common place.
So perhaps it's no surprise that laments form the largest group of psalms in the Psalter and some of their phrases come readily to mind.
The opening words of Psalm 13:
'How long will you forget me, O Lord; for ever?'
The opening words of Psalm 137:
'By the waters of Babylon we sat down and wept.'
These psalms are searingly honest about the reality of suffering and pain, whether physical, mental or spiritual.
The opening words of tonight's psalm, Psalm 130:
'Out of the depths have I cried to you, O Lord;
Lord, hear my voice;
let your ears consider well the voice of my supplication.'
Or as one translation puts it:
'Help, God – the bottom has fallen out of my life!'
The psalms give us permission to leave our Sunday best to one side and instead to tell it how it is when we come before God.
Find time this week to read Psalm 88 – it's unrelenting in its bleakness from beginning to end. And it's a gift to us for those times in our lives when our one companion is darkness, which is how that psalm ends.
With fifty or so of these laments in the Psalter, God has broad shoulders!
Often its unclear exactly what the problem is that any particular psalm is referring to. Tonight's psalm may be about grief or illness, we don't know. Suffering is timeless and universal and it needs to be heard: 'Lord, hear my voice.'
We all know the importance of listening to someone's troubles, not to offer any kind of solution but simply to let the person tell their story.
We need someone else to 'consider well' what we're going through, and sometimes there are things that have been 'done amiss'.
So there's a need for forgiveness:
'If you, Lord, were to mark what is done amiss,' the psalmist asks, ' O Lord, who could stand?'
And with awed astonishment the height and length and breadth of God's forgiveness is acknowledged:
'But there is forgiveness with you,
so that you shall be feared.'
Writing about the way lament functions in the psalms, the Old Testament scholar Walter Brueggemann, uses a model from the work of the French philosopher Paul Ricoeur on the role of language in the life of faith.
Ricoeur see human life as a continual movement from orientation to disorientation and re-orientation.
People can be described as oriented when their lives are running smoothly; they become disoriented when a crisis occurs, upsetting the orderliness of their lives; re-orientation is the 'new creation' that is given when the old world, destroyed by the crisis, has come to an end.
The psalms of lament capture the moment of disorientation.
So these psalms enable us to express our pain and sorrow to God, but they also enable us to stand alongside all who are crying out to God from the depths, 'to weep with those who weep' as Saint Paul urges us.
There's a long tradition of hearing the voice of Christ in these psalms, both in his own sufferings, and in those of the poor and oppressed with whom he identifies. That's why Psalm 22 is read every Good Friday with its opening cry of dereliction:
'My God, my God, why have you forsaken me.'
There are two great realities that these psalms of lament wrestle with: suffering and God.
And at the centre of Psalm 130, these two realities are brought together:
'I wait for the Lord; my soul waits for him;
in his word is my hope.
My soul waits for the Lord,
more than the night watch for the morning,
more than the night watch for the morning.'
The word 'wait' is used three times in just two verses and the image of the night watch waiting for the morning is emphasized through repetition.
Waiting and watching are key themes in these painful, sorrowful psalms.
Most of us have some experience of these things. Few of us have not know unresolved suffering from which it seems nothing good can come. Imagine this unresolved suffering as a seed. These psalms invite us to plant that seed of unresolved suffering in God.
We can't always bring about our own re-orientation.
But we can use these psalms as we wait and watch in hope:
'For with the Lord there is mercy;' as Psalm 130 concludes, 'with him is plenteous redemption.'