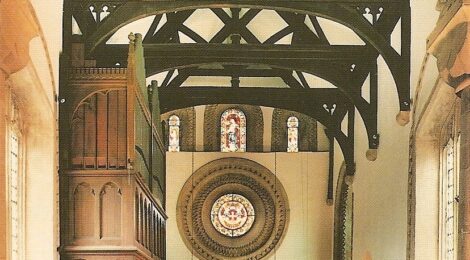 A sermon for Advent Sunday preached by Graham Low at 10 a.m. on 29 November 2020
I find the words in today's gospel about the darkened sun and falling stars very exciting. They have power. They have beauty. God is already at the very gates, just beyond, just out of reach, beyond an open door. These images illuminate deep and familiar spiritual truths for many of us. Jesus uses the most dramatic language possible to tell us about urgency of his message. He is saying that we are to be attentive to God, and to resist the intolerable injustices of organised politics and religion too – very much a message for our times.
These are words and prompts which set the scene for the season of Advent. It is a season which demands movement, and thus change. The status quo no longer applies. The word advent has a rich meaning: it is about movement, about anticipation, and about arrival, and, for us, it is about the arrival of Christ, and all that his life will mean.
What else may Advent mean for us today? The German theologian Dietrich Bonhoeffer once wrote: "The celebration of Advent is possible only to those who are troubled in soul, who know themselves to be poor and imperfect, and who look forward to something greater to come". I'm sure this goes for every one of us today.
This Advent is unlike any in our memory as we live with the huge and unknown cost of the pandemic: in lives, jobs, physical safety, mental health, and spiritual well-being. How long these costs will last is very unclear. We have all been facing unforeseen practical challenges, but we have also had unforeseen feelings, a common and unfamiliar sense of insecurity, and a deep loss of personal freedom, and especially of human contact. There is darkness, longing, waiting, hope: the deep themes of Advent are with us as never before.
Both the Old Testament and the gospels remind us that we are always involved in shared insecurity and failure: we tend to close our hearts to this, but we can seek to overcome these setbacks by opening our hearts to each other through the action of God. Faith does not deny the weakness we all sense just now. It does not end the pain. But it invites us to share compassionately our need of each other, our need to make our neighbour as safe as we seek to be safe ourselves. We are not to seeking safety at our neighbour's expense.
In a book to be published in two weeks' time (Candles in the Dark: Faith, hope and love in a time of pandemic) Rowan Williams asks: what we are learning from the present situation? Firstly, are we becoming more aware of our dependence on each other? Are we becoming more aware of the risks and limitations of living in a world which we are never likely to be able to control completely? Are we becoming increasingly aware of the most vulnerable people, such as those who are without work, without a home, without food, without essential medical care for mind and body, or without human contact and love?
These are all huge questions, but I think and hope they can be answered rather more positively than a few months ago. There is a sense of more solidarity and goodwill among people. May this be a sign of the beginning of a fundamental change from individualism to community. May the words I and me be replaced by we and us as second nature. Together with the hope that vaccines will at least attenuate the pandemic, may we also hope that the events of recent months have kindled a new longing for generous and joyful life in communities everywhere. May our Advent prayer be that this longing is so. May we have the grace to act as if it is so. Amen.