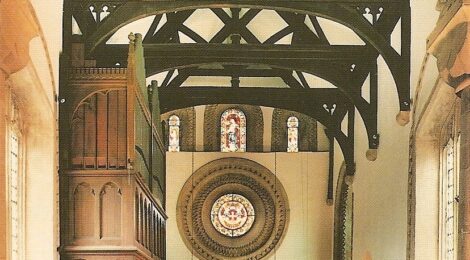 A sermon preached at St Mary's Iffley by Andrew McKearney on 31 January 2021.
There's a jogger that I occasionally meet who told me that whenever they go out jogging in the early morning they come past Iffley Church and touch the door of the church. If you're with us today/tonight you may remember that conversation that we had – and how you refer to the door of Iffley Church as your 'lucky door'!
I suspect a number of us have unusual habits like that; habits that somehow help us stay connected.
If we've ever been to the tomb of Saint Francis in the crypt of the basilica in Assisi, we'll have seen pilgrims from all over the world praying at his tomb, pushing their hands through the bars that protect the tomb, sometimes with rosary beads wrapped round their fingers, and praying as they touch the stones that surround the tomb.
Touch is so important for staying connected; and how difficult it is that at the moment it's largely denied us.
At this time each year we listen to today's gospel story because it tells of Jesus, just 40 days old, being brought by his parents to the temple in Jerusalem.
I think part of the attractiveness of this story is the sheer humanity of it: a young family fulfilling their religious duties and meeting two devout elderly people, Simeon and Anna.
When Simeon sees Mary and Joseph what does he do? He takes the baby into his arms and praises God in words that have echoed down the centuries:
'Lord, now lettest thou servant depart in peace,
according to thy word;
for mine eyes have seen thy salvation,
which thou hast prepared before the face of all people.'
The picture of this old man seeing and holding a small bundle of life just 40 days old, is deeply, deeply satisfying.
These are strong instincts in us; and our physical presence one with another is hugely significant. How we feel the pain of this loss at the moment.
Yes we can see; yes we can hear as we're doing now. But as human beings we have five senses and there are three others that remain unsatisfied – touch, smell and taste.
You see what Simeon had been promised was that he would see the Lord's Messiah before he died. Our belief about Christ is that here is the incarnation of God; God no longer an intuitive feeling or a good idea; God no longer bound up in a place, even a place as impressive as the Jerusalem temple; but God coming amongst us as flesh and blood, as our first reading from the letter to the Hebrews is at pains to point out.
So Simeon could not only see and hear the infant Christ, but also hold him, smell him, and if he kissed him, even taste him.
At this point in the story Jesus is just 40 days old! He's not a great teacher, or a great healer, or a great anything! But Simeon can still hold this child in his arms and praise God because, as he says, with his own eyes he's seen the salvation he's been waiting for.
The implication for Simeon is that he can now let go, his life is complete: Master, now you are dismissing your servant in peace, he prays.
The deeper implication of this moment is that what is true for Simeon is also true for the temple itself in which this meeting is taking place; its days too are numbered. God's presence is no longer guaranteed by the temple of Jerusalem, but by this bundle of life held in Simeon's arms.
I wonder if we sense in this story something about growing old. Simeon and Anna were old, very old for those times. And as we grow old our penultimate desires drop away or are taken from us; and what remains is an ultimate hope, a trust that the light shines in the darkness and the darkness cannot overcome it.
Or perhaps it's Simeon's words to Mary that strike a chord with us, echoing our own struggles with our children. There are few of us as parents or grandparents who've not known our souls to be pierced by a sword. Love is costly.
Or perhaps this story invites us to join with Simeon and Anna as they waited for better days. They're movingly described as 'looking forward to the consolation of Israel'. The word 'consolation' is a word that expresses better than any other that I can think of, the deep satisfaction they were looking forward to, a satisfaction both personal as well as communal.
That's how it is with us, isn't it? Waiting and longing for that time of our consolation.