About Eco Church
Throughout the Church of England, groups and parishes are taking action under the Anglican Church's Fifth Mark of Mission: to safeguard the integrity of creation. To help us raise our awareness, knowledge and commitment to the climate emergency as a parish, St Mary's has signed up to the 'Eco Church' scheme.
Eco Church is an environmental awards scheme that aims to guide and help churches implement ideas about caring for God's world through worship, teaching, buildings, personal lifestyles, and community involvement. The awards are a way of measuring achievement and communicating our response to climate change to the wider community. We have recently been awarded a Bronze Eco Church award from A Rocha, and are now working towards the Silver award. However, awards are only milestones on the road to our true goal: being a carbon neutral church by 2030.
Over the past few years a small working group of church members has been meeting regularly to organise a range of different activies. We've organised special climate-services, environmental-quizzes and workshops on sustainability. We've also worked with local groups, particularly in Rose Hill, to plant trees, share our mission and pick up litter. We have also arranged an energy audit for three of the church buildings, and created a whatsapp group "St. Mary's Eco Chat", which is full of information about current issues, recipes, local news and signposts to e-lectures of interest. But, despite all this, we'd love to continue growing and doing more, so if you're interested in joining us, please contact iffley.ecochurch@gmail.com.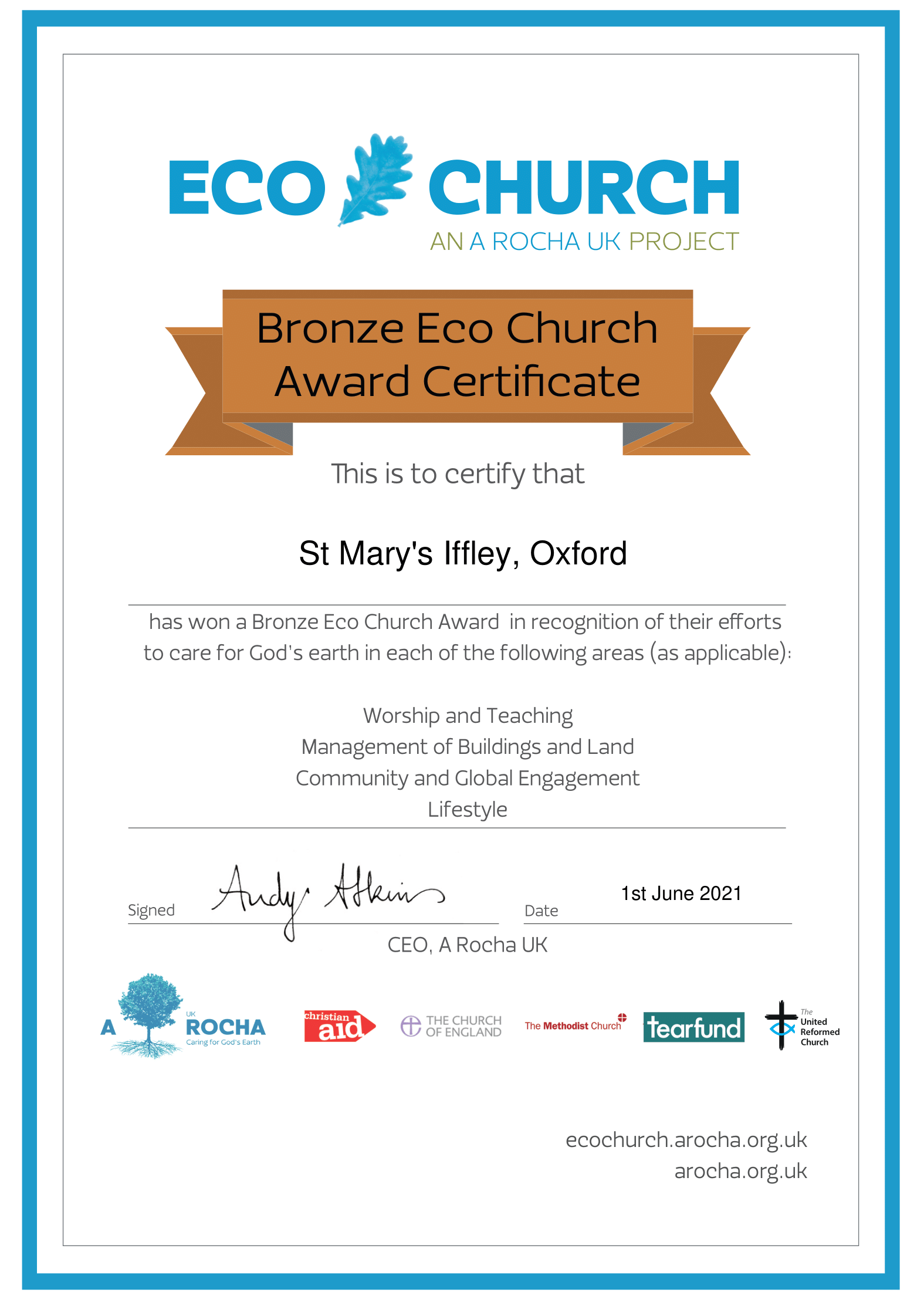 ---
Events
Carbon Footprinting Sunday
20th Febuary 2022
Join us in the church hall between or after the services to get hands on help doing your own carbon footprint, and talking about our church's footprint!

---
Resources
There's lots we could all do in our home lives to reduce our impact on the environment. Whether car sharing on your journey to church, replacing old lightbulbs with energy efficient LEDs, or turning your electrical appliances off standby, consider what measures you can take as an individual. Even small steps can make a huge difference. Take a look at the resources below to learn more:
---
Recent articles about Eco Church
Churches Count on Nature is an annual nature count supported by Caring for God's Acre and A Rocha. This year it will run from June…

A sermon preached by Nikolaj Christensen on 20 February 2022, our 3rd annual Environment Sunday. You can also watch the sermon on YouTube. The words…

Letter from a Member of the Ministry Team. Iffley Parish Magazine, December 2021. As the delegates were gathering for COP26 in November, Graham Low wrote…